WOW check me out! One month blogging, rambling, nattering, blithering about my life as a mum of two minions.
It's been scarily addictive, checking who has commented on my blog posts, getting stuck into Twitter, working out coding with a lot of help! I've even woken up in the middle of the night with thoughts of what I can blog about.
I've found blogging therapeutic, doesn't matter who is reading what I've written it feels good to get the words out into the open.
I've met some great connections the lovely Fi over at Beauty, Baby and Me we've discussed baby waking at night and being a newbie blogger.
Petit Pudding who is also a new blogger and hopefully joining forces for a linky soon...
I've got some exciting collaborations coming up which is seriously exciting and I can't wait to share them with you all.
Here's a big high five and glass of your favourite tipple to all my fellow bloggers and followers for supporting me through the first month of this exciting blogging journey.
Oh and in case you hadn't realised I am on Twitter come and say 'hello'.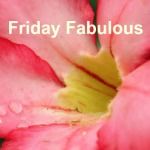 Linking up with the lovely Attachment Mummy for #FabulousFriday